Electrical Clients
Who We Work With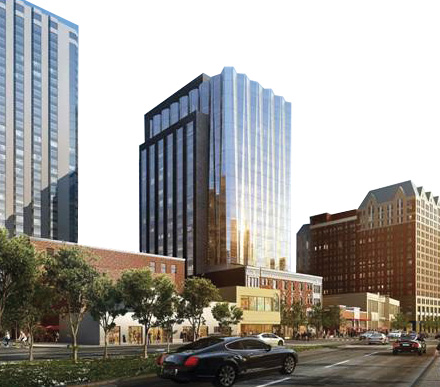 Viceroy Hotel | Chicago, IL
Don't just take our word for it! Our extensive client list attests to the value provided by Connelly Electric, a leader in the electrical contracting industry. Our satisfied clients include many of the most well-known and well-respected construction companies in the Chicago metropolitan area:
41 North Contractors
Advocate Aurora Health 
AECOM Corporation
Alston Construction
Alter Design Builders
A.M. King Construction Company
Arco Murray National Construction
Barton Malow Company
Bear Construction
Berglund Construction
BHC Construction
Boldt Construction
Bovis Construction
Bulley & Andrews LLC
Capital Development Board
Chanen Construction Company, Inc.
Charpie Construction Co.
Clune Construction
Cosgrove Construction
Development Solutions, Inc.
Duke Realty
Edward Hospital
Englewood Construction Management
Executive Construction Inc.
FBG Corporation
FCL Builders Inc.
F.H. Paschen
Featherstone, Inc.
Frederick Quinn Corporation
Frontier Construction
G.A. Johnson and Son
Gilbane Building Company
Gray Construction
Graycor Construction Co.
Harpo Studios
Helios Construction Services
Henry Bros. Co.
Hoffman LLC
Humphreys & Associates LLC
Hunzinger Construction
IHC Construction
Interior Construction Group
International Contractors, Inc.
J.C. Anderson Inc.
J.E. Novack Construction
Jackson Dean Construction
Jirsa Construction
Kajima Building & Design Group, Inc.
Keeley Construction Inc.
Krusinski Construction Company
Lakeview Construction Inc.
Lamp, Inc.
Lendlease
Leopardo Companies Inc.
Madison Construction
Mazur and Son Construction
McClier Corporation
McHugh Construction Co.
McShane Construction Company LLC
Monarch Design and Construction
Morgan Harbour Construction Co.
Mortenson Company
MTI Construction Services LLC
Northern Builders
Novak Construction
Osman Construction Corporation
Paul Hemmer Companies Inc.
Peak Construction
Pepper Construction
Performance Services
Power Construction Company
Premier Design and Build Group LLC
Principle Construction
Reed Construction
Reiche Construction
Riley Construction
Robert Yiu Construction
Ryan Companies US, Inc.
S&D Products
Shawmut Design & Construction
Skanska Building USA, Inc.
Skender Construction
Sonoma Construction
The Missner Group
The Murray Company
Tippman Design Build
Tishman Construction Corporation
Troop Contracting, Inc.
Turner Construction Company
Unified Construction Group
Valenti Builders,  Inc.
W.E. O'Neil Construction Company
Walsh Construction
Weis Builders, Inc.
Whiting-Turner
Wight Construction Services, Inc.
William A. Randolph, Inc.
View our Electrical Clients Portfolio