IPD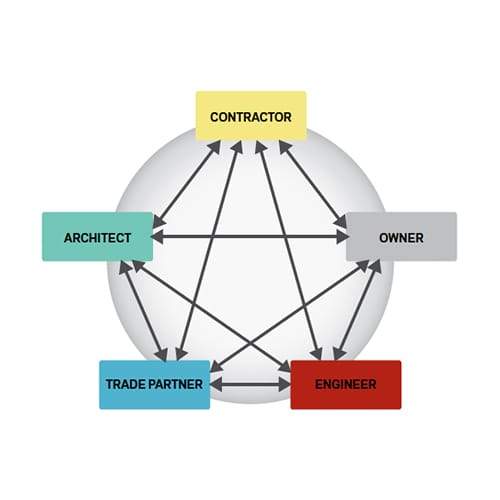 What is IPD?
Connelly Electric has experience in IPD projects within the Educational and Healthcare Industry.  Integrated Project Delivery (IPD) is a project delivery approach that integrates people, systems, business structures, and practices into a process that collaboratively harnesses the talents and insights of all participants to optimize project results, increase value to the owner, reduce waste, and maximize efficiency.
IPD principles can be applied to a variety of contractual arrangements and IPD teams can include members well beyond the basic triad of owner, architect, and contractor. In all cases, integrated projects are uniquely distinguished by highly effective collaboration among the owner, the prime designer, and the prime contractor, commencing at early design and continuing through all phases of design and construction. Through LEAN Construction, design, and pull planning, target value is driven into the early stages of the design.
IPD also requires a high level of communication and collaboration, and Connelly Electric's on-site BIM team and Pre-fabrication facility enables that, making us better designers and builders, achieving full potential benefits.
Benefits of IPD
Project Management Improvement through increased collaboration
Design Flexibility Enhancement
Goal Alignment between all members of the project
Construction Conflict Reduction / Less issues in the field
Risk Reduction
Waste Reduction
Increased owner comprehension regarding property management
 Our IPD Projects
Advocate Aurora Health-Condell Medical Center ICU Expansion & Tower Buildout | Power Construction
ASSH Procedural Center Hazel Crest, IL | Power Construction
Amita Ambulatory Bartlett, IL | Power Construction
Amita Ambulatory Woodridge, IL | Power Construction
Amita Ambulatory Carol Stream, IL | Power Construction
Amita Ambulatory Lake Zurich, IL | Power Construction
Advocate Lutheran General Garage Expansion, Park Ridge, IL | Power Construction
AGSaH Chiller Phase III | Turner Construction
AIMMC Central Sterile Processing Department, Chicago, IL | Boldt Construction
Aurora University Dining Hall, Aurora, IL | Boldt Construction
Aurora University Southlawn Utility Infrastructure Aurora, IL | Boldt Construction
Aurora University Institute for Collaboration BuildingAurora, IL | Boldt Construction
Aurora University Parking Garage Aurora, IL | Boldt Construction
Aurora University Parolini Music Center Aurora, IL | Boldt Construction
University of Chicago Mitchell Hospital RevitalizationChicago, IL | Berglund Construction